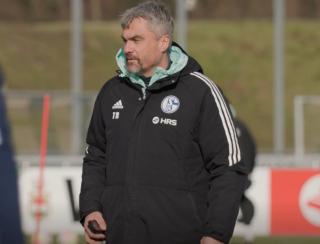 Thomas Reis returns to the Vonovia Ruhrstadion for the first time since his firing, as Schalke go for their 6th straight league game without a loss in the tense race at the bottom.
VfL Bochum

Bochum haven't scored a competitive goal in nearly a month which has dropped them out of form and back down the Bundesliga table. They need to rekindle the decent home form they've found this season in this contest with major relegation implications.

Don't be surprised if Bochum continue sending long balls in Philipp Hofmann's direction, hoping his size can create some chances in front of goal. The supporters in attendance will undoubtedly provide a rowdy atmosphere during coach Thomas Reis' first game back against his former club.
Manager Thomas Letsch shared, "Of course it is an advantage that Thomas Reis and Markus Gellhaus know the (Bochum) players. But in return, I also have staff who know them and their ideas well. Both will be prepared. Schalke have stabilized and come back into the game."
Team News

Anthony Losilla is suspended, while Cristian Gamboa, Gerrit Holtmann and Simon Zeller are out. Ivan Ordets and Danilo Soares are available once again.
Schalke

After four straight painful draws, Schalke finally broke through and claimed all three points against Stuttgart the last time out. In what was a daunting task just a few weeks ago, things are looking up with Schalke now just four points away from climbing out of the relegation zone.
The injury list is still difficult to look at with several key players unavailable for the foreseeable future. Schalke also remain dead last offensively with 16 goals recorded through 22 games, but Ralf Fährmann has revitalized his career with only one goal conceded in their last five matches between the sticks.

It should be noted that Schalke haven't won an away Bundesliga match in their last 38 attempts dating back to 2019.
Reis commented, "Everyone knows what the situation in the table is. Both teams need the points. I'm looking forward to being back there and am hoping to be successful with my team."
Team News

Sebastian Polter, Justin Heekeren, Thomas Ouwejan, Tim Skarke, Sepp van den Berg and Danny Latza won't be in the squad.
More about the match
Philipp Hofmann: "It was always a goal of mine to play for Schalke"
More about the teams
Schalke end scoreless drought and take all three points from Stuttgart
Bundesliga Tactics Talk: Round 22
Knäbel confirms that Schröder's move to Leipzig is near
Predicted Bundesliga lineups: Matchday 23
Report: Schalke and PSV in talks to sign Dahmen