Palmeiras are the champions of Brazil — the Brasileirão Série A — for the 11th time in their history. It's most unfortunate that Athletico Paranaense denied us the Copa Libertadores final that we neutrals deserved, but the Brazilian league title is a fine reward for Palmeiras' efforts. (And quite lucrative, too.)
When I wrote my review of the Argentine Primera, I claimed that this year's Boca Juniors side was one of the most underwhelming champions of their title-winning sides over the last 25 years. That statement, emphatically, does not apply to this Palmeiras side. They had the best attacking record (64 goals, 2.47 xG/90), the best defensive record (25 goals allowed, 1.18 xGA/90), arguably the best midfielder in Gustavo Scarpa, and arguably the best goalkeeper in Weverton. After some jockeying between Santos, São Paulo, and Corinthians, O Verdão took the lead in matchday 10 and never looked back. A 23-match unbeaten streak, broken in a meaningless final day loss to Internacional, put the league beyond any doubt. Palmeiras maintained their high level of performance during the Copa Libertadores season and were a serious threat to finish with a Brasileirão/Libertadores double.
In fact, you could argue that Palmeiras slightly underperformed in the league. Soccermetrics' expected goals metric is admittedly inflated when it comes to Brazilian football, but it appears that Palmeiras could have threatened Flamengo's points record from the 2019 championship (Cruzeiro had the most points in the double round-robin era, but the league had 24 teams in 2003). Palmeiras' goal-scoring frequency was quite strange: they scored no more than four goals in a match, and they were held goalless more times than they scored four goals (five matches to four, respectively). In three of their goalless matches they generated more than 2.0 xG, and two of those matches exceeded 3.0 xG!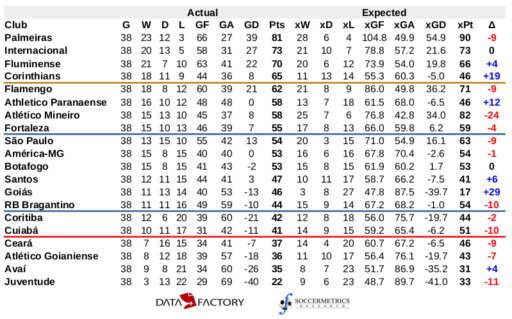 Palmeiras had many contributors to their league title, but surprisingly not a dominant striker. Rony was very good, to be sure, and was one of the best from open field, but he scored "just" 12 goals. Dudu played more minutes but well in support with seven goals. Where Verdão stood out was in goal production from their defenders. No other team got more goals from their defenders than Palmeiras' 18, no one scored more goals from dead-ball situations than Gustavo Gómez, and among all defenders only Bragantino's Luan Candido scored more than Gómez.
In the midfield, Gustavo Scarpa was nearly peerless. In my opinion, only Giorgian de Arrascaeta and Jhon Arias came close to matching him. He led the league in actual assists and ranked at or near the top in expected assists from open play, corner kicks, and free kicks. Combined with seven goals — third-most among all midfielders — Scarpa was a worthy recipient of various player of the season awards. He's on his way to Nottingham Forest after the World Cup, which is also a deserved reward for him.
In goal for Palmeiras was Weverton, who faced fewer shots than most of the fellow first-choice goalkeepers, but answered the call when required. He was one of three goalkeepers to play more than 1800 minutes and allow fewer goals than expected (-3.5 GAAx). No one matched his sixteen clean sheets, either. His reward: selection to Brazil's World Cup squad.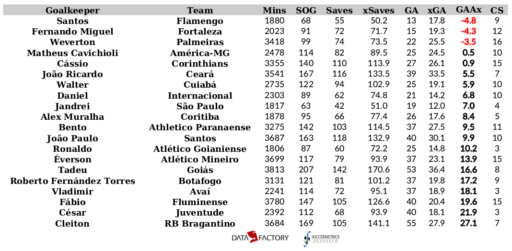 Turning to the rest of the table, I have the following observations:
Corinthians and Athletico Paranaense overachieved in huge, but different ways: Corinthians could barely score but could defend, while Athletico could score yet could barely defend. How O Furação managed to get past Palmeiras in the Libertadores semi-final is the stuff of legend.
Defending champion Atlético Mineiro were hugely disappointing. The extent of their scoring ability was a 36-year-old Hulk, and no one else. It's little wonder that Atlético are actively seeking a striker to either pair with or, more likely, replace him.
Flamengo was a slight disappointment in the league, but they had other priorities. And their Copa do Brasil/Copa Libertadores double left them with extra Libertadores berths to share. Atlético and Fortaleza give their regards.
São Paulo's season was a waste. Calleri and Luciano were a great pair up front, Igor Gomes, Pablo Maia, and Rodrigo Nestor were serviceable in the midfield, but the defense was way too porous. Jandrei recorded four clean sheets, and the only first-choice goalkeepers with fewer were on relegated teams.
Goiás' performance in the advanced metrics was the kind that make one question the numbers. And then one finds out that all the other analytics and betting sites have been seeing the same thing. Goiás should have been relegated to Série B, but thanks to Pedro Raul and a knack for grinding out 1-0 and 2-1 results, they're in the Copa Sudamericana. It's a performance that merits a deeper look, and I'll do that in a future post.
The only sides not facing relegation or CONMEBOL play are Coritiba and Cuiabá. Given that next year's promoted sides include some big clubs of Brazilian football, these two sides would be my candidates for relegation in 2023.
They say that the table tells you what you are, and the bottom four sides are deserving of relegation. It's a rough outcome for Ceará, but Atlético Goianiense, Avaí, and Juventude earned their return to Série B. Anemic up front, porous in the back, and a trapdoor underneath the manager's seat. What little exists in the way of creative or scoring ability (Vina, Chico, Marlon Freitas, Stiven Mendoza, etc.) will more than likely depart for other Série A clubs.
Advanced metrics used in this post were derived from match data that was supplied by DataFactory Latinoaméricano.