Form goes out of the window when Liverpool play Man United, so are Red Devils fans wary of slipping up at Anfield this weekend?
Jurgen Klopp's side secured a vital 2-0 win over Wolves in midweek, enhancing their Premier League top-four hopes in the process.
On Sunday afternoon, a far greater test awaits Liverpool, however, as an in-form United side visit their most bitter rivals.
Ten Hag's team have recently been crowned League Cup winners, and whisper it quietly, but their quadruple chances are not dead and buried yet.
With a massive game hovering on the horizon, we spoke to Old Trafford regular and writer Alex Turk (@AlexCTurk) to discuss a rejuvenated United, Liverpool's issues and much more.
You must be delighted with United's season to date?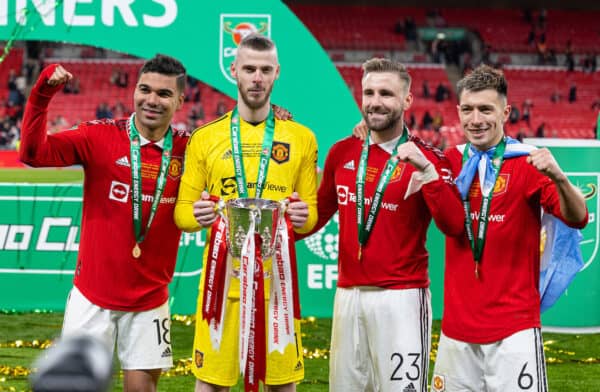 I am delighted! It couldn't have gone much better.
Most Man United fans entered this season expecting clear improvement – basically guaranteed from last season – and a fifth or sixth-place finish.
So how quickly Erik ten Hag has made us challenge on all fronts is a testament to just how perfect a fit he is.
Is Ten Hag officially the man to finally take on the mantle from Fergie?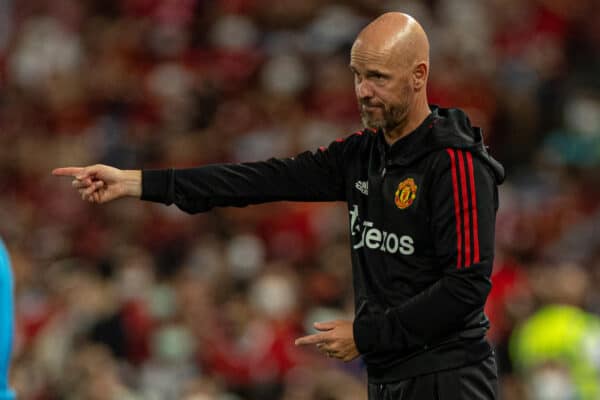 It's far too early to say, but he's certainly got the makings of a great United manager.
The hair-raising one-liners, the game-changing substitutions, the never-say-die attitude – he was destined for a good start when he asserted his authority early.
The way he has managed Cristiano Ronaldo won over fans and critics, and I think put the players in line, too.
It really is his club, and it hasn't felt like a manager has had that much power since Sir Alex.
Which United players have stood out this season?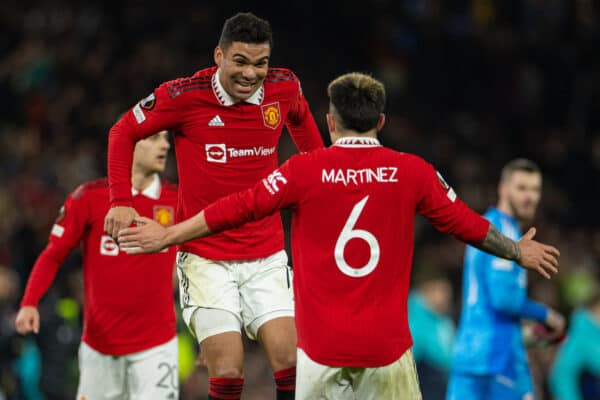 I like to call them the 'Golden Triangle' – Lisandro Martinez, Raphael Varane and Casemiro are the reason United look an entirely different team this season.
For me, it's the Premier League's best centre-back partnership and best defensive midfielder, which is a recipe for success.
Marcus Rashford is arguably Europe's most dangerous attacker on current form and Bruno Fernandes is also back to his best.
For the first time in a long time, this is a serious group of players learning from a serious coach.
As for Liverpool, how do you assess their campaign to date?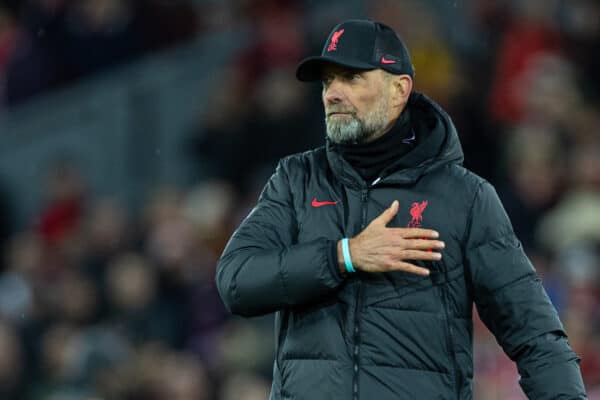 It sort of feels like the roles have, incredibly, reversed, which is nice!
United are the ones fighting for every trophy and Liverpool have been, on the whole, unrecognisable.
The quality has always been there in Jurgen Klopp's squad, however, and the added investment in January was only going to lead to improvement.
I back them for fourth, but no higher (hopefully).
I think it's clear as day the main issue is in midfield, which is a battle I think United can win on Sunday for the first time in years.
Klopp has somewhat started rebuilding his attack and he now needs to do the same in midfield. Liverpool need two new names who can walk into the trio, with maybe a third recruit as depth.
Where do you think both sides will finish this season?
It sounds mad to say, given the whole world had United down for another season of Europa League football, but it would feel like a shame to finish below the top three now.
United have been one of the league's three standout teams.
I think talk of a title bid is farfetched – though also a credit to the early progress under Ten Hag – but I'd be delighted with third, given silverware is already in the bag.
As for Liverpool, I do think they will sneak into the top four, and I don't think that would be an overachievement.
Chelsea have capitulated, while Fulham, Brentford and Brighton's challenge isn't sustainable, surely?
It leaves Tottenham, who can collapse at any given moment, and Newcastle, who have drawn more games than they've won.
Despite Liverpool's poor first half of the campaign, and likely soon to have no Champions League games as a distraction, fourth is realistic.
Looking ahead to Sunday, where are the key battles?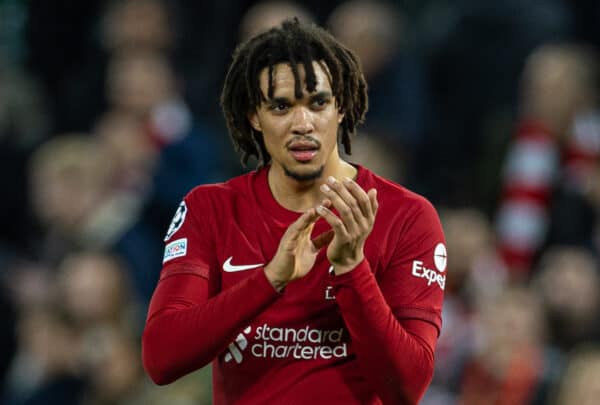 If Liverpool are to find joy on Sunday, it will be down the flanks, Luke Shaw was an injury doubt, and you never know which Diogo Dalot or Aaron Wan-Bissaka you're going to get.
Tyrell Malacia has shown up big time in big games this season, including in the reverse fixture at Old Trafford, but he's still raw and there aren't many tougher tests than Mo Salah.
At the other end, Rashford vs. Trent Alexander-Arnold is another to watch.
I understand he's an icon in your parts, but when Liverpool don't dominate the ball, he gets found out time and time again.
Finally, what's your prediction?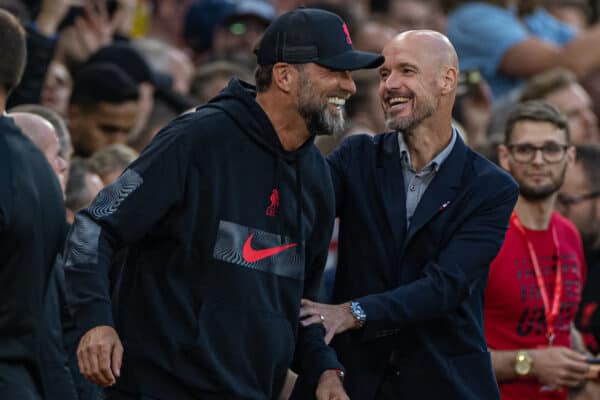 After watching the furthest thing from a United team I have ever seen lose 9-0 on aggregate to Liverpool last season, it should come as no surprise I'm slightly more optimistic this time around.
Annoyingly, we're visiting Anfield when your defence seems to be growing in confidence, but having dumped Barcelona out of Europe, ended a six-year trophy drought and moved one game away from another Wembley trip in the last 11 days, United are confident, too.
My heart says 2-1 United because I really do think we're the better team this season, but it's Anfield and I would be content with a draw.
Prediction: Liverpool 1-1 Man United.