Fabinho delivered a much-improved performance in Liverpool's win over Wolves, with Jurgen Klopp "so happy" to see "the old Fabinho again."
In a season in which so many of Liverpool's players have failed to reach the levels of previous seasons, Fabinho is perhaps the individual who has dropped off the most.
A key component of the Klopp team that has been so successful in recent years, Fabinho developed into one of world's the best players in his position.
And having spoken of Marcus Rashford's resurgence in his pre-Man United press conference on Friday, the Liverpool boss believes the Reds midfielder is also approaching his best form once more.
"He is, it's obvious," Klopp said when asked if he felt Fabinho was slowly getting back to his best.
"When I spoke about it and I said 'Fabinho isn't at his best', it sounds a little bit strange (to you).
"But everybody can see it, so why should I not say the obvious stuff?
"Now everyone can see that Fab is getting back (to his best), and that's exactly what we need obviously.
"We spoke a second ago about Rashford and, it's a different position, but things like this happen. You cannot really explain it, it just happens."
Many felt Fabinho's performance against Wolves was very much the Fabinho of old, and Klopp clearly agrees.
Liverpool's No. 3 was quick into challenges and protected the back four well, something he'll need to replicate once more against United on Sunday.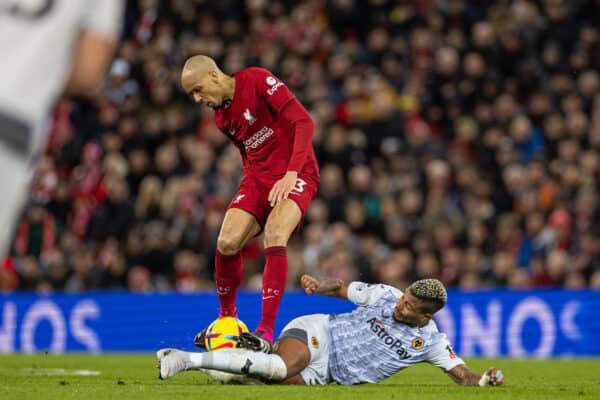 The boss went on to explain how he was "so happy" with Fabinho on Wednesday, and says the team won't take his good form for granted again.
"I was so happy about the last game from Fabinho, to be honest," Klopp added.
"So happy. Because so many things were exactly how we need him, putting his foot in and these kind of things. It was a really good game.
"That's exactly how we use to have him. 'The lighthouse', 'the hoover', all these kind of things.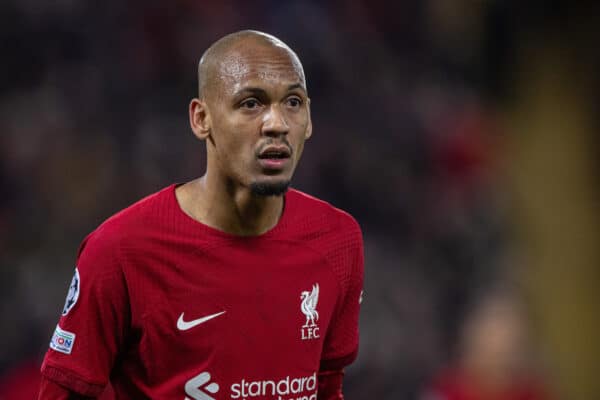 "There's a point when you take things for granted. You lose the ball and it's no problem because there's Fabinho, and you have the ball again.
"Of course you miss these kind of things in the moment when it's not there, and how can you be prepared for that? It's not cool, and we don't have five No. 6s in the club.
"It was really, really good and I'm really happy for him and happy for us that he really looks like the old one again."