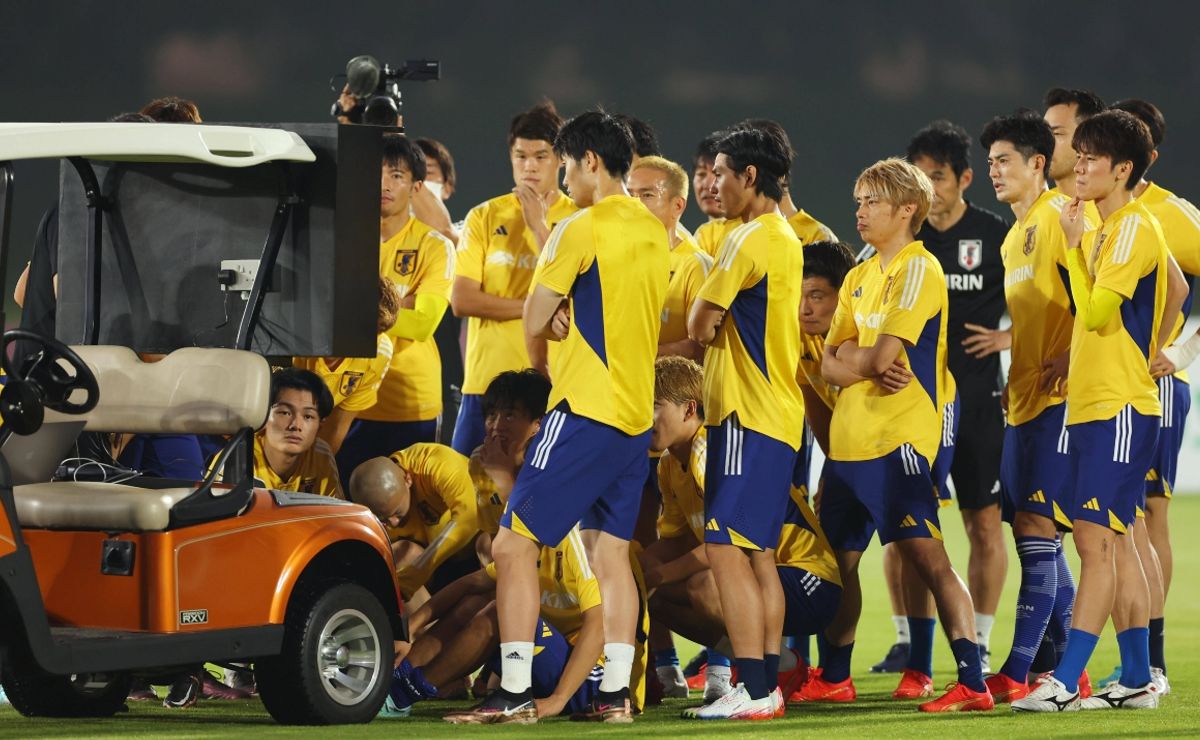 Japan's national team navigated a mediocre group in 2018 (Colombia, Senegal, and Poland) to earn four points and a trip to the knockout rounds.
How will they fare at World Cup 2022?
Even with a better squad – their FIFA ranking has improved from 50 to 24 in four years – the draw provides a much tougher task.
The draw was not as kind, this year the Samurai Blue face Germany, Spain and Costa Rica.  
Japan's Style of Play
Japan wants to attack as often as the can. They will pressure the defense and try to create chances from turnovers.
They can string passes together in a slow buildup, and they can beat teams with pace on the wings as well. Their ability to capitalize on errors can be seen in this goal against the United States in the summer friendly:
There are two questions they must answer if they are to have success in Qatar: 1) can they defend well enough; and 2) can they change their style to a more defensive and counter-attacking posture?
In 2018, they went ahead of favored Belgium 2-0, but they could not hold the lead and fell to a Nacer Chadli stoppage-time goal.
Japan World Cup 2022 Squad
The squad (4-2-3-1):
Shuichi Gonda looks to be the starter in goal. Gonda plays for Shimizu in the J-League, and the 33-year-old has earned 34 caps.  Elder statesman Eiki Kawashima (95 caps) and Daniel Schmidt are the other choices.
Though Kawashima was awarded the number one shirt, he has not played for his club team, Strasbourg, all season. Schmidt is playing in Europe as well, for Belgium's Sint Truiden.
Japan's attacking style can leave them short in the back when they turn it over, so Gonda will have to be sharp to keep them in the group.
The center of defense is expected to be anchored by Arsenal's Tokehiro Tomiyasu and team captain Maya Yoshida.
Those two did not get into Thursday's friendly against Canada; The Blue went with Hiroki Ito and Hiroki Sakai at fullback and Shogo Taniguchi and Kou Itakura in central defense. When Japan is clicking the fullbacks get as far forward as they can.
The Canada game showed that set plays can be a problem, as they were scored upon directly from a corner kick.
Midfielder Takumi Minamino is the biggest name on the club, having played for Liverpool before moving to his current club Monaco. He has full reign over the center of the park, and the lack of a star forward means the Blue will depend on his creativity.
The two players behind Minamino are good passers though they can get caught in possession. Leganes' Gaku Shibasaki assisted on the lone goal for Japan against Canada with this terrific through ball.
Most of the wide players are playing in Europe's top leagues except for today's scorer, Yuki Soma, who plays in the J-League. One of these, Kaoru Mitoma, has broken into Brighton's starting XI this season.
Who plays up front is a huge question mark. The top choices are Bochum's Takuma Asano, Cercle Brugge's Ayase Ueda and Celtic's Daizen Maeda. These three only have 8 international goals between them, and they are going to have to find goals if they want to compete in this tough group.
Japan's style of play can overload lesser squads; they recorded wins of 14-0 against Mongolia and 10-0 against Myanmar.
But they could not hold a lead against Belgium four years ago, or this week against Canada. They will not be afraid of Spain or Germany, but it is hard to see how the Samurai Blue will make it out of the group.
Photo credit: IMAGO / AFLOSPORT
Guide to World Cup 2022
Here are some resources to help you get the most out of the biggest event in soccer!