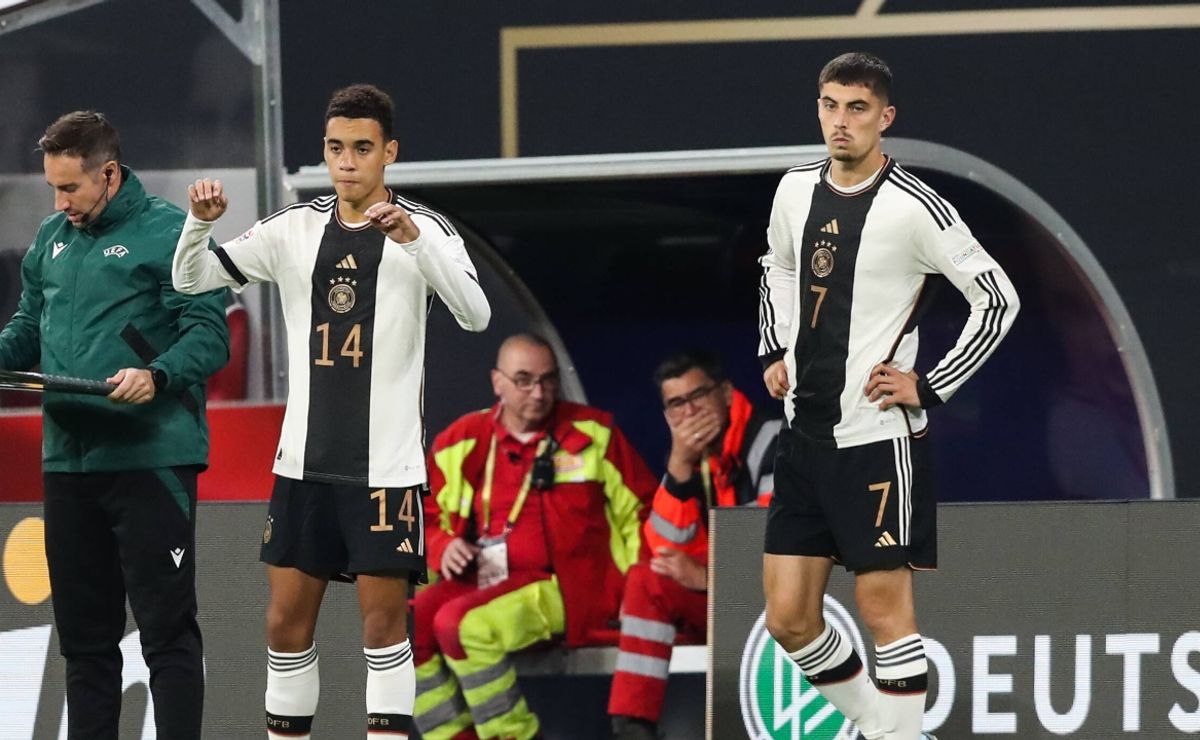 The headlines were eight years in the making. Mario Götze, hero of the 2014 World Cup final and former golden boy of German soccer, is back. He's had health problems, five years in the international wilderness, and was apparently buried as an elite performer. But, superb form since a return to Germany amidst the dynamic forward play of Eintracht Frankfurt returned Götze to the big time.
Or has it? Besides Götze, two minor questions simmered in the German media before the announcement. Another 2014 hero, Mats Hummels is not exactly the player he was in Brazil. Then, Timo Werner's injury left questions surrounding the side's No. 9.
The two options for the latter are fan favorite Niclas Füllkrug of newly promoted Werder Bremen, the highest-scoring German in the Bundesliga. The other is the pundits' favorite, 17-year-old Youssoufa Moukoko of Borussia Dortmund. In the end, both strikers head to Doha. 
Havertz and Musiala set to steal the show in first World Cup appearance
But squad depth is one thing; actually stealing the show is another. Germany has a number of options that can make a difference across the pitch. Perhaps Hansi Flick's squad announcement points towards hints at his starting XI.
Germany's two most likely game-changers flew conveniently under the radar yesterday.
All about Jamal at no.10
At only 19, Jamal Musiala is already an indispensable link-man and goal-scorer for Bayern Munich, Hansi Flick loves him, and complemented by his Bayern teammates, he should be Germany's go-to inspiration in Qatar. Musiala is tearing up the Bundesliga with ease and this World Cup could make him the global star that Götze never truly was. 
Musiala's place in the squad was never in doubt and had no need of headlines. But the media fuss around Götze could be a sweet pressure-release for Germany's real key man.
Super Mario has indeed been in form for an attractive Frankfurt side. See preceding a goal against Hoffenheim on November 9th. But Musiala is playing his third season in a row of Champions League soccer for a truly elite side. He has the form, the top-level skillset, and the essential on-field connections with Kimmich and co. 
If global fans needed a preview to measure Musiala against previous generations of German soccer idols, he offered a masterclass in the three months ago, Frankfurt vs Bayern. Sharing the field opposite Götze, Musiala was dazzling, twisting out of tackles and creating chances at will. Götze showed flashes of class. But alongside the younger man, he looked ponderous and slow.
Don't forget false-9 Kai
Although a Champions League decider at only 21, Havertz has struggled somewhat at Chelsea. A huge price tag, chaotic club politics, and frequent managerial changes have not helped. But Havertz has won respect and developed his game. 
Preferred at no.9 to Romelu Lukaku for long stretches of the Belgian's last season at Stamford Bridge, and frequently filling in since, Havertz – alongside Liverpool's Bobby Firmino – is probably the Premier League's best exponent of the "false-9" role.
And in a German setup that has lacked a standout central striker for most of the last decade, he is used to it internationally too.
Gareth Southgate drew laughter when selecting four right-backs for England's squad at Euro 2020. How about Müller, Havertz, Musiala, and Götze all competing as no.10 for Germany? Of course they won't all take the field simultaneously against Japan on Nov. 23.
The likelihood is the German squad is designed for flexibility at the top-end of the pitch. Müller and Havertz can both lead the line – and have the elite experience that "just-happy-to-be-there" Füllkrug and Moukoko lack – and Götze is a reasonable stand-in for Musiala in extra time and dead rubbers.
Nineteen and 23 years old, respectively, the World Cup awaits the new era of German talent from Jamal Musiala and Kai Havertz.
PHOTO: IMAGO / Christian Schroedter
Guide to World Cup 2022
Here are some resources to help you get the most out of the biggest event in soccer!