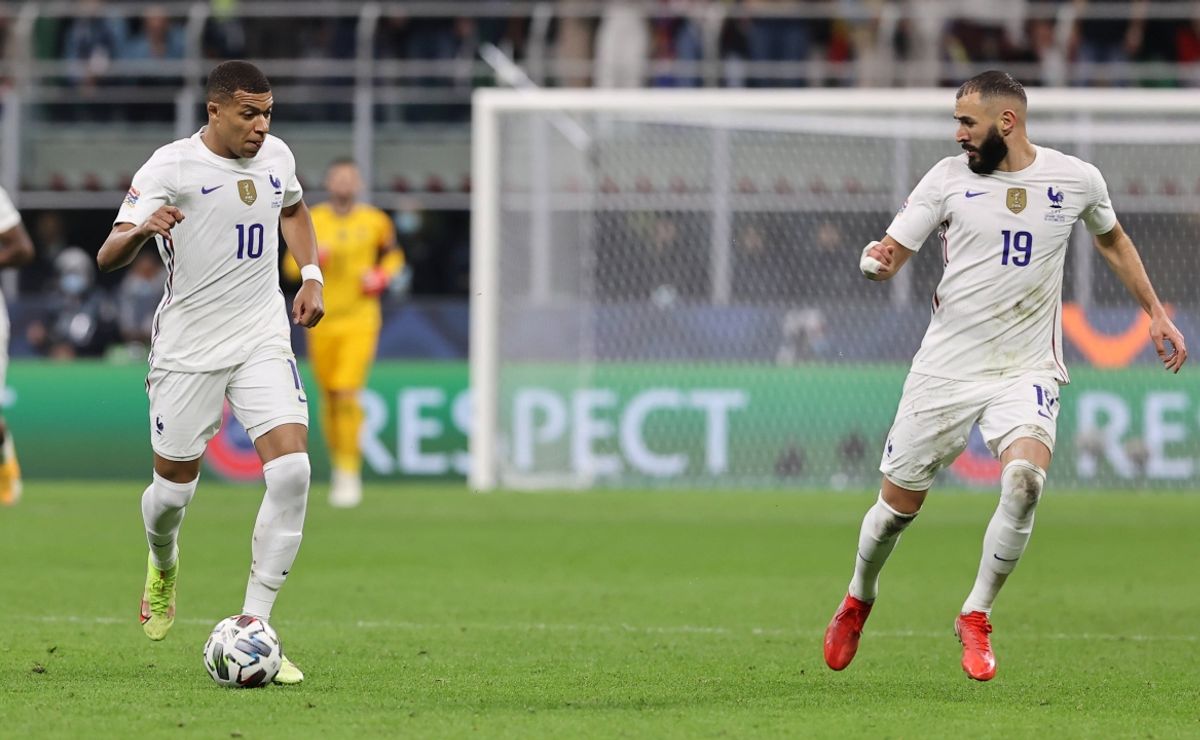 Entering the 2022 World Cup, France looks a team beyond set to repeat. Not only is the side the reigning champion, but it brings in abundant talent. The newly crowned Ballon d'Or winner and a striker on the cusp of breaking his country's all time goal-scoring record. Plus, there is Kylian Mbappé.
There's plenty in the French squad to feel confident about their chances. With a triumph, France can end the 60-year tenure of teams falling short in their bids to repeat.
A lack of talent, however, has seldom been the barrier for French success.
More than any other nation, the French epitomize the chaos of tournament football. Winners in 1998, exited at the group stages four years later. A runners-up place in 2006 was followed by a public meltdown and group stage exit in South Africa in 2010. Last time out saw them crowned world champions but their much-fancied side were eliminated from the Euros two years later by Switzerland.
Therefore, questions persist regarding which France team shows up in Qatar. Issues outside the pitch could rue the side's chances for glory.
Injury bug strikes French squad
The first thing to note is that injuries plague France more than perhaps any other nation. While squad depth played a key role in France's 2018 triumph, the dynamic midfield duo of Paul Pogba and N'golo Kanté is not in action. This strikes out much of the creativity and drive for France in the heart of the field.
Elsewhere, there are injuries to in-demand RB Leipzig forward Christopher Nkunku. He exited after an unfortunate training pitch clash with Eduardo Camavinga. Also, France is without Milan keeper Mike Maignan, Chelsea's Wesley Fofana and PSG's center-back Presnel Kimpembe.
On top of that, there is uncertainty around the fitness of key defenders Raphaël Varane, Jules Koundé and Lucas Hernandez. Karim Benzema has been cautious not to aggravate a recent injury. Then, Antoine Griezmann's unorthodox deal at Atletico Madrid means he'll be more undercooked than manager Deschamps hoped going in to the tournament.
Uncertainty for France at 2022 World Cup
That gap in the central area may result in the untested pairing of young Real Madrid duo Camavinga and Aurélien Tchouaméni . A partnership of huge potential but little experience. As a result, Juventus midfielder Adrien Rabiot is the backup. His call up to the squad is not without controversy. He refused to be on the standby list in the 2018 World Cup squad, putting his status under the microscope. Unsurprisingly, that led to something of a fallout with manager Didier Deschamps.
He's not the only member of the squad with 'history' either. Karim Benzema, arguably in the form of his life, only recently rejoined the team after an extended suspension absence. He played a part in the bribery case involving former international teammate Mathieu Valbuena. Benzema famously called his replacement, Olivier Giroud, a 'go-kart,' while Benzema was more of the 'Formula One' stature.
Giroud then hit back and criticized the decision to bring the Madrid striker back into the fold. For now, at least, the pair have put on a public show of peace. Expect that to be tested if things go south early on.
Talent across the pitch
But for all the injuries and niggles, potential rifts and previous feuds, there is no hiding the fact that France arrive in Qatar with an enormously stacked squad. Even the players that didn't get the call-up would form a strong team.
There is talent and competition for each position. That central midfield pairing may be raw. Yet, it has potential to be hugely exciting. In fact, it is the envy of most nations across the bulk of Europe and the world.
They have players who can change games single-handedly. Nowhere is that more true than in their front line. Benzema and Mbappé are perhaps the best two strikers in the tournament. Griezmann, who will likely play just behind them, is an equally big player for France.
That's not to mention Olivier Giroud, who is just two goals away from breaking Thierry Henry's record and becoming his country's all time top scorer. Also, Ousmane Dembele or Kingsley Coman can play a pivotal role in counter attacking with pace.
Deschamps, a naturally pragmatic manager, is unlikely to go for broke with an all-out attack. Equally, he understands where his team's strength lies. With this being his final act as France manager, he is eager to go out with a bang.
Deschamps is just the third person to win the World Cup as both a captain and a coach. He seeks more history by being one of the few to retain the trophy.