Following Liverpool's deserved 2-0 win at home to Wolves on Wednesday, two Reds fans are feeling more confident about the world!
Jurgen Klopp's side picked up three vital Premier League points at Anfield, keeping their top-four chances alive in the process.
Virgil van Dijk fired Liverpool in front shortly after the hour mark, before Mohamed Salah pounced to secure the victory just four minutes later.
After the game, This Is Anfield duo Henry Jackson (@HenryJackson87) and Jack Sear (@JackSear) were on hand to discuss some improved performances, the top-four battle and Sunday's visit of Man United.
Well, that was a bit better, wasn't it?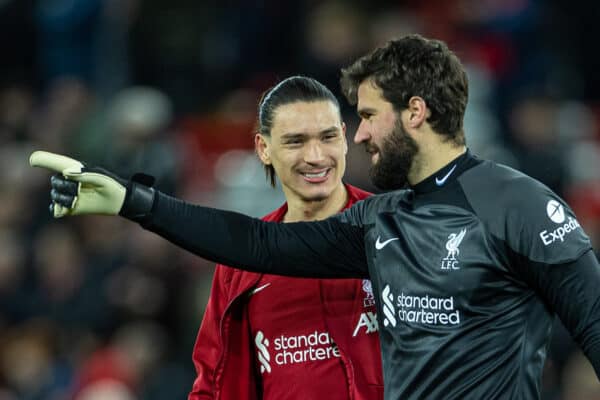 JACK: Yep. I don't think there was a lot wrong with the performance at all.
You did start to wonder whether it was going to be another frustrating 0-0, but unlike the other games we haven't scored in in recent weeks, we continued to create chances.
I thought we moved up a gear second half, too, which was another clear positive on the night.
Progress!
HENRY: Ah, what a relief!
For a while, it felt like another one of those frustrating nights, but Liverpool's performance easily merited all three points.
There was often more zip to their play, particularly as the minutes ticked by, as Jack says, and a young midfield provided more energy.
The Reds didn't panic after the ludicrous disallowed goal – Paul Tierney's performance was disgraceful, quite frankly – and they got the job done in impressive fashion.
I thought Fabinho was much improved – which individuals shone for you?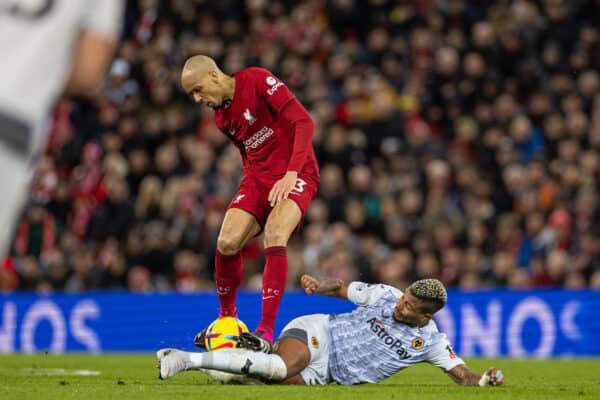 JACK: I'm with you, Henry, Fabinho really stood out to me, too.
It's the first time in ages he's been anticipating things again and he made some excellent challenges to start counter-attacks. Hopefully, he's getting there.
I thought the whole midfield was good, especially the first half.
Harvey Elliott will have been frustrated to not get on the scoresheet, but he had a lot of bright moments, and Stefan Bajcetic stood out yet again.
He really is some talent.
Diogo Jota and Darwin Nunez grew into the game and we were solid at the back, and I thought Trent Alexander-Arnold and Kostas Tsimikas were great at both ends of the pitch.
Lots of positives.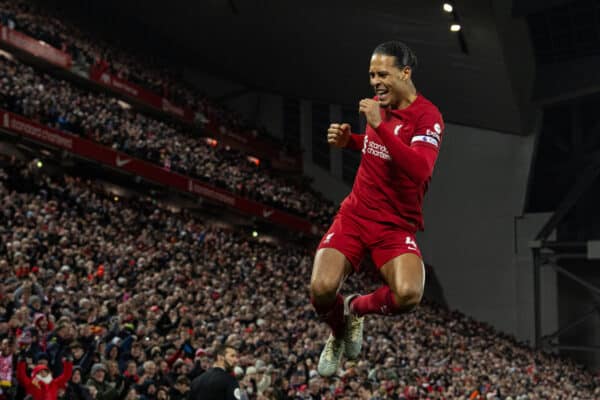 HENRY: Aside from Fabinho, whose performance I found really encouraging, I agree that several others stood out.
Ibrahima Konate and Van Dijk were immaculate and look like the best centre-back pairing by a country mile – the influence of Ibou these days cannot be underestimated.
Trent was SO much better than last weekend when his general attitude concerned me, and Tsimikas was great deputising for Robertson, doing so well for Salah's goal.
Bajcetic will have more eye-catching displays, but he was solid in a Gini Wijnaldum-esque manner, and Elliott looked like making things happen.
Nunez ran his socks off and Salah bagged his 20th goal of the season at the start of March – not bad for someone who has apparently been in dreadful form the whole time!
It's 10 points in four games, and four clean sheets in a row, so has the corner officially been turned?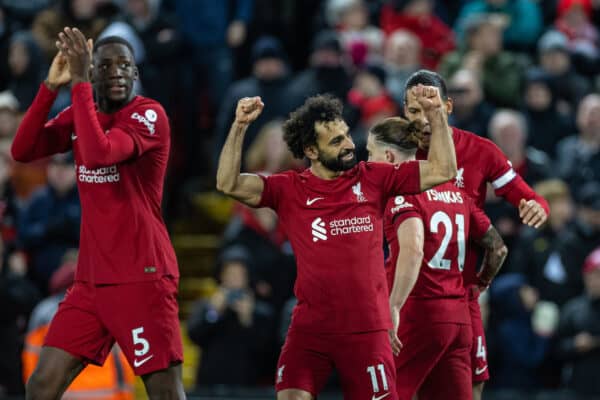 JACK: I'm reluctant to say a corner has been turned, to be honest.
The performance level is certainly better than it was at the start of the year, and our recent results prove that, but I still worry we'll get picked off by the better teams.
Man City, Chelsea and Arsenal in the first week after the international break will certainly be a test!
But even so, with the likes of Jota back to fitness and Luis Diaz not far away, we do now look like a team that is capable of getting in that top four.
Keep players fit, win our games in hand and we'll be there or thereabouts.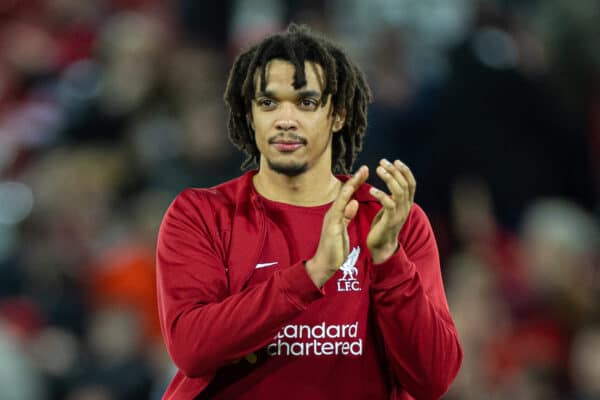 HENRY: I completely agree with Jack here.
There's no way I'm getting carried away after this recent run of results – frankly, I cannot fathom how they've managed to achieve them!
United will be a far, far greater test this weekend and it is certainly easy to envisage things going badly, given their current form.
There is still a lingering frailty about Liverpool, but these last four league games have at least hinted at an upturn in fortunes.
I will feel a lot happier if we show up against United and make it four wins out of five in the league.
It's United up next – what would your starting XI be?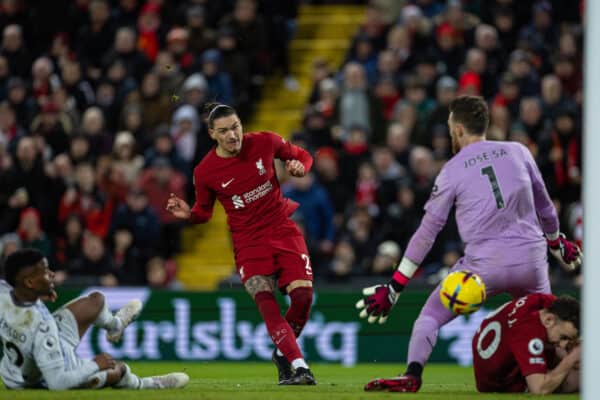 JACK: I think Jurgen Klopp will be reluctant to change too much from the Wolves game, and rightly so.
As long as Konate, Nunez and Jota are good to go again, the only changes I'd make would be Robertson in for Tsimikas and probably Jordan Henderson in for Elliott.
I wouldn't be too disheartened if he gives Harvey another start, though.
If Jota isn't ready for three starts in a week then I'd bring in Cody Gakpo, who was good off the bench.
My XI: Alisson; Trent, Konate, Van Dijk, Robertson; Fabinho, Henderson, Bajcetic; Salah, Nunez, Jota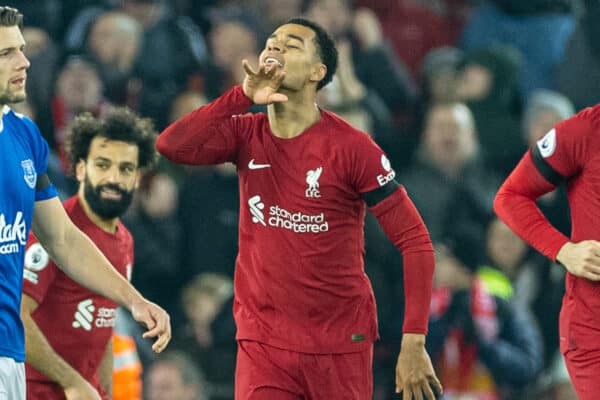 HENRY: I largely agree with Jack here, to be honest.
Robertson back in for Tsimikas is a no-brainer, despite Kostas doing so well, while I would go for Henderson over Elliott just because of the physicality and general nature of the fixture.
The skipper's performances have been nowhere near good enough this season, however, so a big performance is required if he does start.
In attack, I would go for Gakpo over Jota, with the former's link-up play superior and the latter still not quite at his sharpest after injury.
My XI: Alisson; Trent, Konate, Van Dijk, Robertson; Fabinho, Henderson, Bajcetic; Salah, Nunez, Gakpo
Finally, how confident are you of victory on Sunday?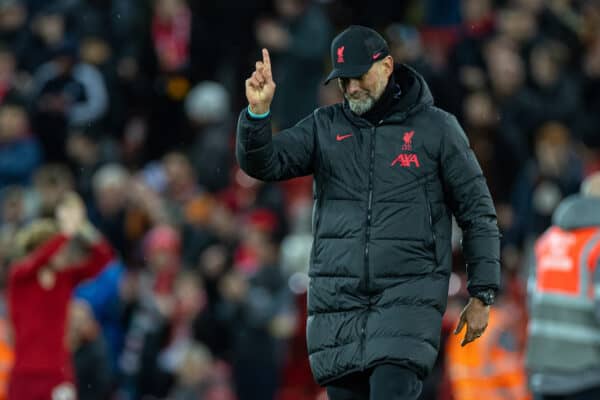 JACK: United are a winning machine at the moment, so I'm not hugely confident, but I'm certainly more positive about our chances than I would have been a few weeks ago.
If the defence and the midfield is as solid as it was against Wolves then we certainly have a chance, but it will be a real test.
As long as the performance is encouraging again, a point probably wouldn't be the end of the world, as long as we go and win against Bournemouth in the last league game before the break.
Anfield will be rocking, though, and it will be United's toughest test for a while.
Jurgen will certainly have the players up for it!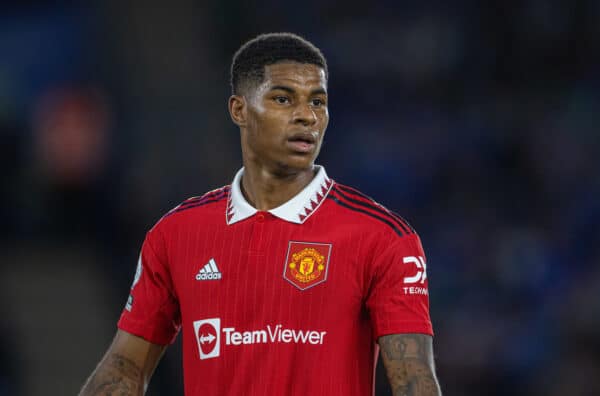 HENRY: United are in one of those irritating places where simply everything is going for them at the moment.
I read something about them only creating one big chance in the last three matches, but scoring seven goals, which if true (could be nonsense) is ridiculous!
They are absolutely full of confidence from back to front – Casemiro has been an incredible signing and Marcus Rashford looks unplayable – so it will be a huge test for Liverpool.
This is a fixture where form goes out of the window, however, to use an old cliche, a fired-up Anfield could easily roar the Reds to victory.
As Jack mentioned, I'm certainly more confident than I was about three weeks ago, but it is easy to see things going badly, which would be unbearable.
In truth, I think it will be a draw, probably with United equalising in the 104th minute after a Casemiro shot deflects off eight different players!