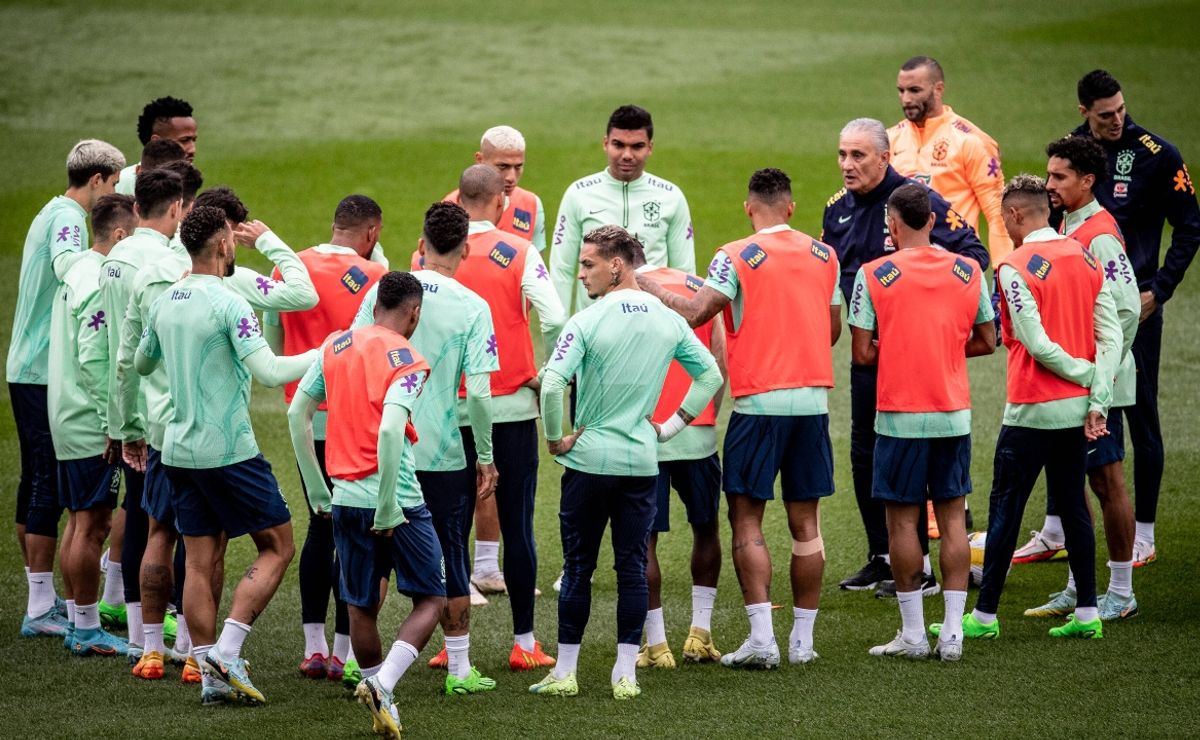 Brazil, the odds-on favorites to win this year's tournament, announced its World Cup squad for Qatar 2022.
Unsurprisingly, the contingent of 26 names features some of the world's best and most famous talents. In fact, there are many similarities to the side that reached the Copa America Final in 2021. Moreover, there are select players still plying their trade in the Brazilian top flight. Yet, 23 out of the 26 names represent clubs outside Brazil. Also, there is one player who plays in Liga MX, a veteran for the national team.
So, here is how the roster shakes out for the Seleção.
GOALKEEPERS
Ederson (Manchester City), Alisson (Liverpool), Weverton (Palmeiras).
DEFENDERS
Danilo (Juventus), Dani Alves (Pumas UNAM), Alex Sandro (Juventus), Alex Telles (Sevilla), Thiago Silva (Chelsea), Marquinhos (PSG), Eder Militão (Real Madrid), Bremer (Juventus).
MIDFIELDERS
Casemiro (Manchester United), Fabinho (Liverpool), Bruno Guimarães (Newcastle United), Fred (Manchester United), Lucas Paquetá (West Ham United), Everton Ribeiro (Flamengo).
FORWARDS
Neymar (PSG), Vinicius Jr. (Real Madrid), Gabriel Jesus (Arsenal), Antony (Manchester United), Raphinha (Barcelona), Richarlison (Tottenham Hotspur), Gabriel Martinelli (Arsenal), Rodrygo (Real Madrid), Pedro (Flamengo).
Brazil World Cup squad
Breaking it down from the back to the front, the Brazil World Cup squad is perhaps deeper than any other side. Goalkeepers Alisson and Ederson from Liverpool and Manchester City, respectively, are two of the elites of world soccer. Also, Weverton was in goal when Brazil won its Olympic gold medal via penalty shootout.
Dani Alves and Thiago Silva bring the experience, while a player like Bremer brings the youth to Brazil's back line. This is a decent mix of the two. However, with three Juventus players featured, form could be something of a concern at the World Cup.
Brazil's midfield is dominated by the Premier League. Casemiro and Fabinho are two elites at their position, while Fred and Bruno Guimarães bring something different to the fold. Also, Everton Ribeiro is a familiar name to those that follow the Copa Libertadores. The midfielder for Brazil was names to the Team of the Tournament in the 2022 campaign, only as a defender.
Pedro, another Flamengo player in Brazil's squad, was on the Copa Libertadores Team of the Tournament as the competition's top scorer with 12 goals. However, he faces a tough challenge of featuring with Richarlison regaining fitness before the tournament. Other players, namely Vinicius and Neymar, are sure to be higher on the pecking order for Tite.
Brazil kicks off its World Cup on Thursday, Nov. 24, against Serbia.
PHOTO: IMAGO / nogueirafoto
Guide to World Cup 2022
Here are some resources to help you get the most out of the biggest event in soccer!