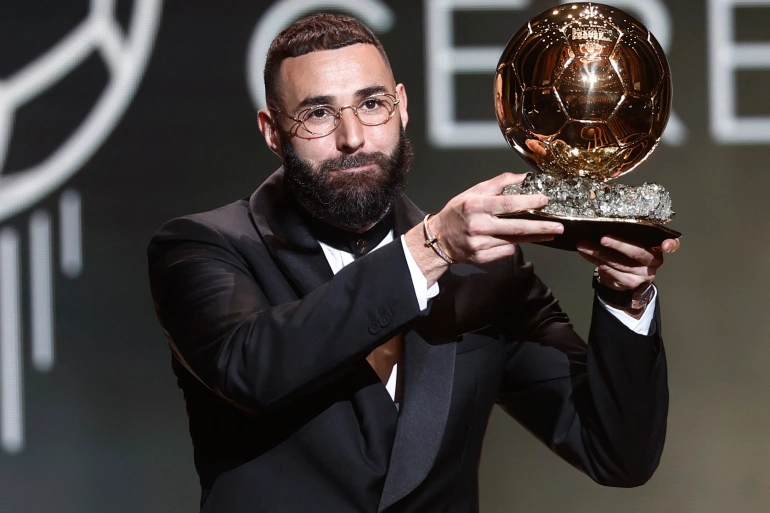 For the first time since 1998 a French player has taken home the Ballon d'Or title. After spending years in the shadows for players like Ronaldo and Mbappe, Karim Benzema is finally getting the recognition and honors that he deserves. While this win for the elusive frenchman is definitely no surprise, this recognition should've come years ago. Taking home pretty much every single major trophy known to the world of football, this is truly the tip of the cap for Benzema's storied career. 
If you're not sure why Benzema has been voted as the best player this season here's a couple reasons why:
Throughout the 2021-2022 season Benzema has scored over 40 goals (27 in La Liga, 15 in just 12 European competitions).
Benzema took home yet another La Liga title and his fifth ever Champions League Title with Real Madrid
Throughout the Champions League Benzema proved to be the hero throughout the group stage and the knockout rounds, scoring a massive hat-trick in the round of 16. 
Benzema lifted Real Madrid over the likes of PSG, Chelsea, and Manchester City with his goal scoring heroics. 
After taking a six year hiatus from France's National Team, Benzema made his return and helped his home nation take a UEFA Nations League title. 
His return to the national team saw him score 9 goals in 13 matches for the squad. 
Scored a multitude of goals and lifted more trophies than any other player in consideration for the trophy. 
After this huge season for Benzema it was only right that he took home the trophy that he deserves. His historic season as captain of Madrid's squad landed him at the ranks of the world's best. Combining this along with his return to the national team it is only fitting that Benzema receives the title of the world's greatest. 
Benzema winning the Ballon d'Or has definitely warranted that the legend finally gets his own pair of signature boots. Perfectly crafted and inspired by the golden boy of football, Benzema's signature boots have already hit the pitch for Real Madrid this season. 
The X Speedportal gets a major makeover with the latest design for Benzema. In a tribute to his championship and award winning season, the X Speedportal gets an all-white base, but with new and improved details. A metallic gold sole plate along with a metallic gold graphic throughout the boots truly invokes the feeling and look of the French Hero. 
Want to support Benzema and show the world who the true champion is? Shop for all the Karim Benezema essentials at SoccerPro today!