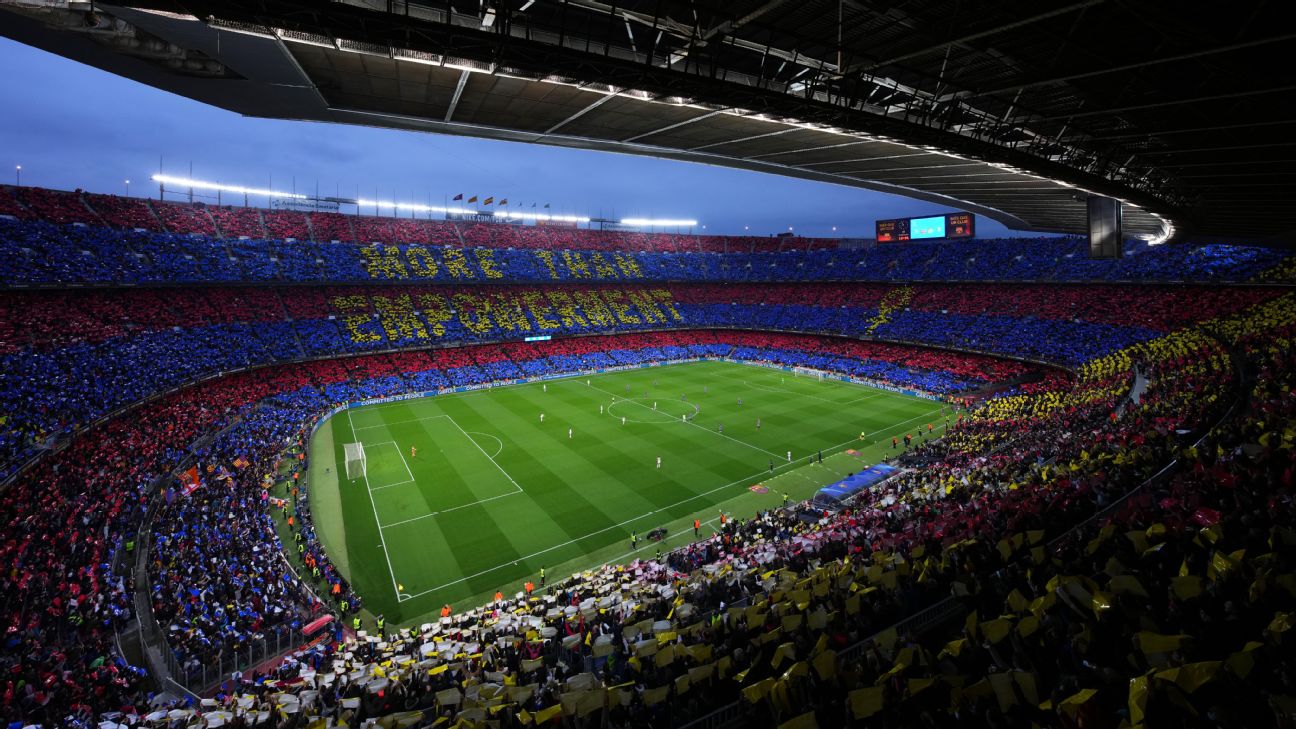 Barcelona are renegotiating the terms of a €1.5 billion ($1.59bn) financial plan with Goldman Sachs to revamp their stadium and may have to repay the debt five years earlier than anticipated, according to a rating agency and a high-level club source.
Barcelona approved a 35-year debt plan in a referendum of club members in 2021 that would enable them to renovate their iconic but languishing Camp Nou stadium and its surroundings.
– Stream on ESPN+: LaLiga, Bundesliga, more (U.S.)
The preliminary debt structure has been revised, the Kroll Bond Rating Agency (KBRA) said in reports published on its website, with Barca to make a final repayment in 2047 instead of 2052 as previously agreed.
The original plan represented the only source of funding for the Nou Camp project. Under the amended structure, notes would be issued for €1.3bn, with the remainder of the deal made up of a €200m bank loan maturing in 2028, the KBRA report said.
KBRA said the revised structure included additional refinancing and interest rate risk and as a result it had downgraded the financing plan's rating from BBB+ to BBB, meaning it is less attractive to investors.
A source at the club confirmed the revised debt structure but said the terms of the deal were still being negotiated with Goldman Sachs and that the definitive deal would be announced by March 31.
Goldman Sachs has not replied to a request for more information about the ongoing talks and the new terms.
Camp Nou is the largest football stadium in Europe and the fourth largest in the world by capacity with 99,354 seats but the club considers it no longer offers a full match-day experience for fans.
The club estimates the new stadium will allow Barca to generate €200m of additional revenue annually through sponsorship and naming rights, ticketing, catering, VIP boxes, hospitality, meetings and events.
Barcelona have announced that Turkish construction company Limak will carry out the renovation and work will start in June.
Club president Joan Laporta, who presided over one of Barca's most successful periods from 2003 to 2010, was reelected two years ago after the previous board resigned due to the club's worsening finances and other issues.
He inherited a club deep in a financial crisis exacerbated by the COVID-19 pandemic.
Restricted by LaLiga's Financial Fair Play (FFP) rules, Barca were unable to agree a new deal with club great Lionel Messi, who left as a free agent to Paris Saint-Germain in 2021.
Since then Laporta has tried to improve the club's financial situation, turning the club's assets into cash and bringing in new sponsors.
In March 2022, the club signed a shirt and stadium sponsorship deal with audio streaming platform Spotify in an agreement worth €280m.
Barca have also agreed to sell a 25% stake in their LaLiga TV rights for the next 25 years to U.S. private equity group Sixth Street for €607.5m and approved the sale of a minority share of their audio-visual division to Socios.com and Orpheus Media for €200m.