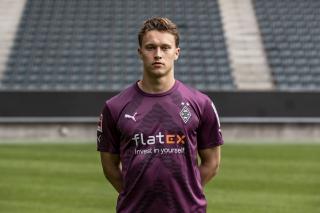 None of Gladbach's four first-team goalkeepers were fit to train yesterday.
Borussia Mönchengladbach began their preparations for the coming Bundesliga game against SC Freiburg yesterday without any of their four first-team goalkeepers.

With first-choice goalkeeper Jonas Omlin (thigh), Jan Olschowsky (thumb tendon injury and flu), Tobias Sippel (knock) and Max Brüll (thigh) all absent, academy goalkeepers Ben Zich and Tiago Pereira Cardoso helped out in training.
"It's obviously not ideal to have four goalkeepers absent at the same time," commented Gladbach coach Daniel Farke.
"We are confident that Jan and Tobi will be able to return by Thursday at the latest. We are also hoping that Jonas will be able to return in time for Saturday."
Marcus Thuram training individually due to a calf problem.
"We're hoping that he will be feeling better tomorrow so that we can increase his workload and maybe even have him return to team training."
More about Gladbach
Bundesliga Tactics Talk: Round 22
Kehl comments on links to Kamada and Bensebaini, addresses futures of Bellingham, Reus and Hummels
Kramer and Hofmann react to latest BMG stumble: "Stupid to bring up the positives."
Farke: "We made too many mistakes"
Mainz 05 vs. Borussia Mönchengladbach preview: Two closely-matched teams face off
Predicted Bundesliga lineups: Matchday 22