Liverpool's fourth meeting in quick succession with Wolves ended in victory, going some way to making up for the shocking defeat at Molineux.
Liverpool 2-0 Wolverhampton Wanderers
Premier League, Anfield
Wednesday 1 March, 2023
Goals: Van Dijk 72′, Salah 77′
Another new-look midfield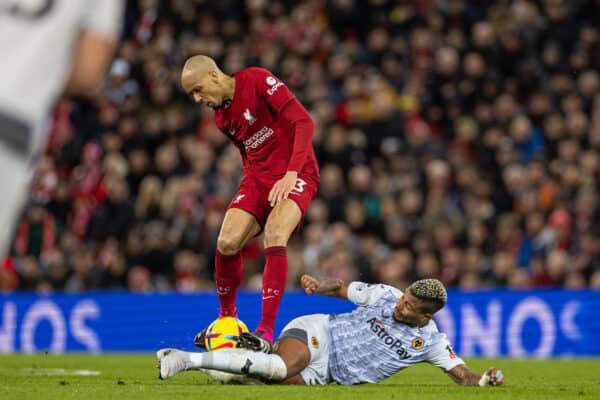 Another day, another triumvirate given the opportunity in central midfield.
After the absolute desperation of Saturday's performance against Palace, Jurgen Klopp this time turned to youth in the middle third: Stefan Bajcetic and Harvey Elliott paired as No8s for the first time, with Fabinho sitting behind them.
First, it's worth noting the Brazilian's performance. There's not much other way to describe his season so far apart from brutal.
But here against Wolves he was far more proactive and adventurous in the attacking half, pressing high upfield and winning the ball in dangerous areas more than once.
And, defensively, he certainly played better than recent games, not perfect but a step forward and very harshly booked (for once!).
As for the two teenagers, the returning Elliott was impressive in spurts, three times getting into dangerous areas as chances fell his way – certainly, though, he should have scored his headed effort.
Spanish midfielder Bajcetic was in and out of the game but played an important recovery role against counters, largely being sensible after his soft early booking, although some of his passing was wayward.
It was a better overall showing from the trio compared to recent weeks, though naturally for a brand new lineup, there were a few gaps and miscommunications, too.
Attacking disconnect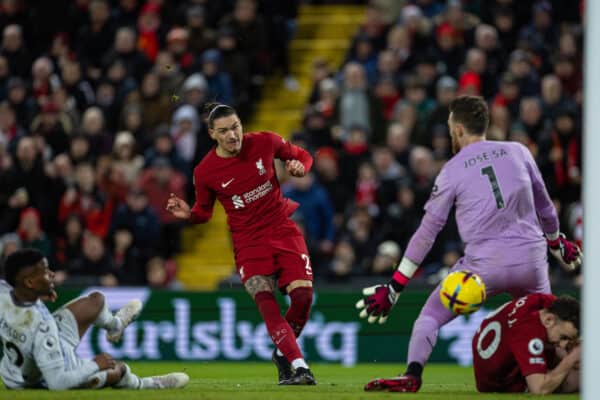 In attack, there were two more names of note in the team after injury: Darwin Nunez after just one game out, and Diogo Jota continuing his return after a long lay-off.
The latter still looks a million miles from fully sharp – that's the kindest way to put it.
And yet, he produced one brilliant burst from deep which ended in the ball in the net – VAR ruled it out – which might a least suggest he's getting a little closer to his former level. He also, eventually, provided the ball back into the middle for Van Dijk's goal which did count.
Nunez looked off the pace himself first half, marginalised from the left wing and not too involved in the build-up, but he was far more central to matters second half.
A good finish was ruled out, and the attack as an entire unit still looks far more threatening when he's on the pitch.
The third member, Mo Salah, was once again quiet and wayward for the most part – more on that in a moment.
Naturally, the Reds need Salah to rediscover his touch and clinical edge consistently, but perhaps of more consequence would be a return to the attack as a whole playing far more in tandem with each other.
The combination play was minimal from the starting trio, the exchanges and chances created between them close to zero – and we needed a centre-back to get the opener.
Anyway, for Salah, it's sometimes said that forwards on a goal drought just need one to bounce in off them to open the floodgates. Perhaps a glancer off the thigh will work just as well?
Ibou back to reclaim his place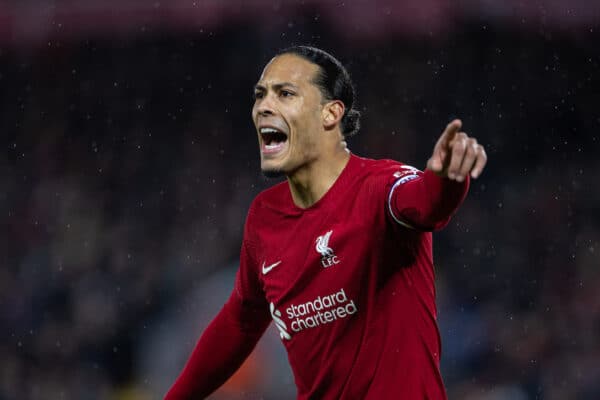 Virgil van Dijk recently returned from injury and the battle to partner him could begin again. Joe Gomez had one good game, one bad game and then got injured.
Joel Matip has been poor, so hasn't had another chance to stake a claim – so tonight it was Ibou Konate, back from his own absence, who returned to the lineup.
He doesn't yet look as good as he can do, the No5, but his season has been so stop-start that it's to be expected. Even so, good pace and strength when it was needed was a welcome sight, as was his aerial dominance.
The midfield has been a more problematic area of the team with regards to stopping Liverpool conceding goals, compared to actual defenders.
But even so the number of individual mistakes this season has been sky-high.
Tonight was a welcome return to concentration, diligence and a fourth league clean sheet in a row – five in six, with the outlier being…Wolves, last time out.
The Champions League chase
No point pretending otherwise now: the Reds' route back into Europe deepends on a top-four finish. This year's European adventure will last precisely one more fixture, barring a miracle.
So, the state of play in the Premier League following this win: the Reds go sixth, above Fulham on goal difference, two points off Newcastle in fifth and six off Spurs in fourth – but with a game in hand on the north London side.
Consistency will be all that matters in very short order; over the last four matches now, the Reds have taken one point more than Spurs over the same period.
Small margins, but that's what it will come down to after game 38.
We've already beaten Newcastle twice and Spurs once, with Antonio Conte's team coming to Anfield in late April. We need to still be in touch by then.
And don't rule out Fulham either, flying in league and FA Cup alike; at the time the 2-2 draw away to a newly promoted club looked poor – but now there's at least reason behind it.
We'll certainly have to win that Anfield encounter, whenever it's rearranged for.
Anfield again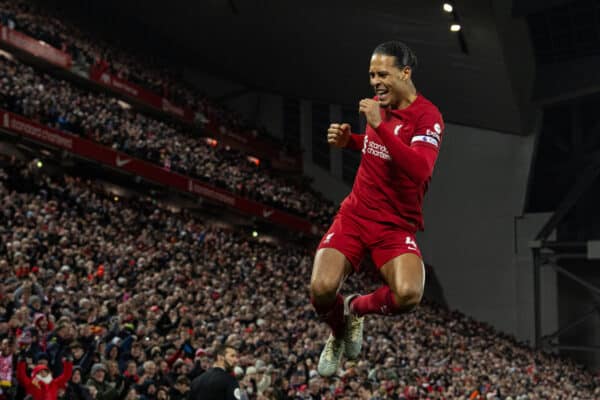 A week or two back, Anfield was rocking for the derby. Soon after, it was bouncing pre-game and 20 minutes into the Champions League tie against Real Madrid – but the subsequent 70 left the stadium deflated.
That continued into the trip to Palace, albeit with the Reds as a minority of course, and then into the early period of this game.
The performance was as flat as the atmosphere – a bit of a concern given Liverpool need to make Anfield their "guaranteed" points from now for the rest of the season.
It's always a trade-off in who sets the spark, the fans or the team, but if the energy was easily destroyed by a big defeat, hopefully it will be just as quickly restored after a fairly routine win.
Given it's Man United set to visit Anfield at the weekend, it's likely we'll need it.